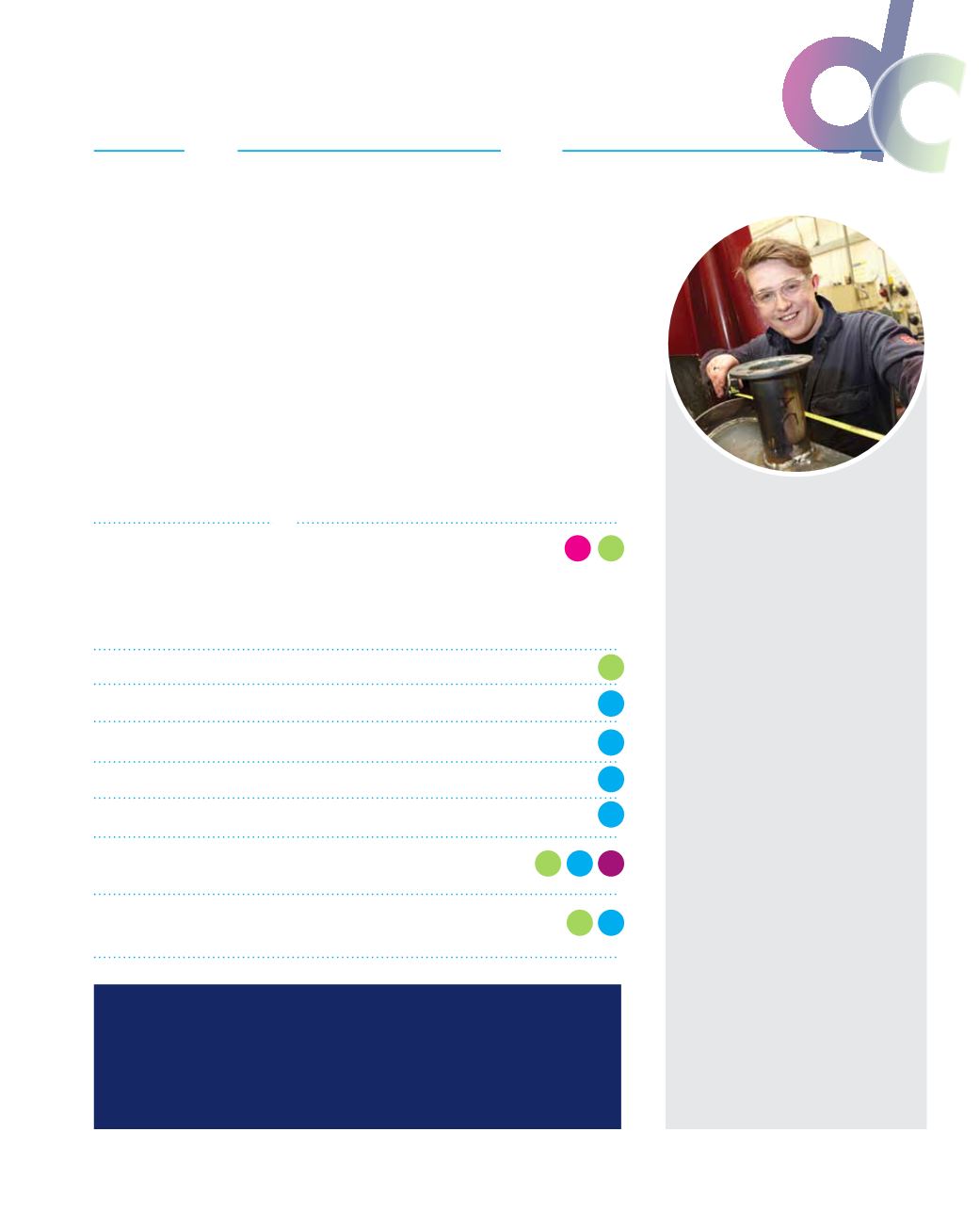 L2 L3
L2 L3
Studying Engineering can lead to a variety of exciting
careers, with both local and national organisations.
Studying at Derwentside College ensures that you will train
in excellent workshop facilities, with the most up-to-date
equipment. You will study a range of traditional and
modern hi-tech engineering subjects, including the
application of new and up-to-date technologies and
computer-aided design. You will also have the opportunity
to specialise in vocational subjects, such as fabrication and
welding, mechanical or electrical/electronic engineering.
What can I study?
Introduction to Engineering
(Develop skills in Engineering Procedures)
• Fabrication and Welding
• Mechanical
• Electrical (Maintenance / Installation)
Diploma in Electrical Installation
Certificate in Engineering
Sub Diploma in Engineering
Diploma in Engineering
Diploma in Manufacturing Engineering Technology
Apprenticeship in Engineering at Intermediate,
Advanced and Higher Level
Apprenticeship in Electrical Installation at
Intermediate and Advanced Level
Engineering
I'm currently
employed as an
Apprentice at Bonds
Cash Tech in Crook. I'm
really enjoying my
Apprenticeship; the
engineering theory and
practical skills I have
learnt at College has
been invaluable for me
in the workplace. I prefer
to learn through doing
and that's why an
Apprenticeship is the
best route for me. I
couldn't be happier
with my choice of
Apprenticeship and the
excellent teaching and
assessment support I
am receiving from
Derwentside College.
Joshua Payne
Apply now at
www.derwentside.ac.uk
19
people are employed across
565,000 engineering enterprises
5.4 million
Intermediate Apprenticeship
in Engineering Manufacture
"
"
L2
L3
L1
L2
L3
L3
L3
L4