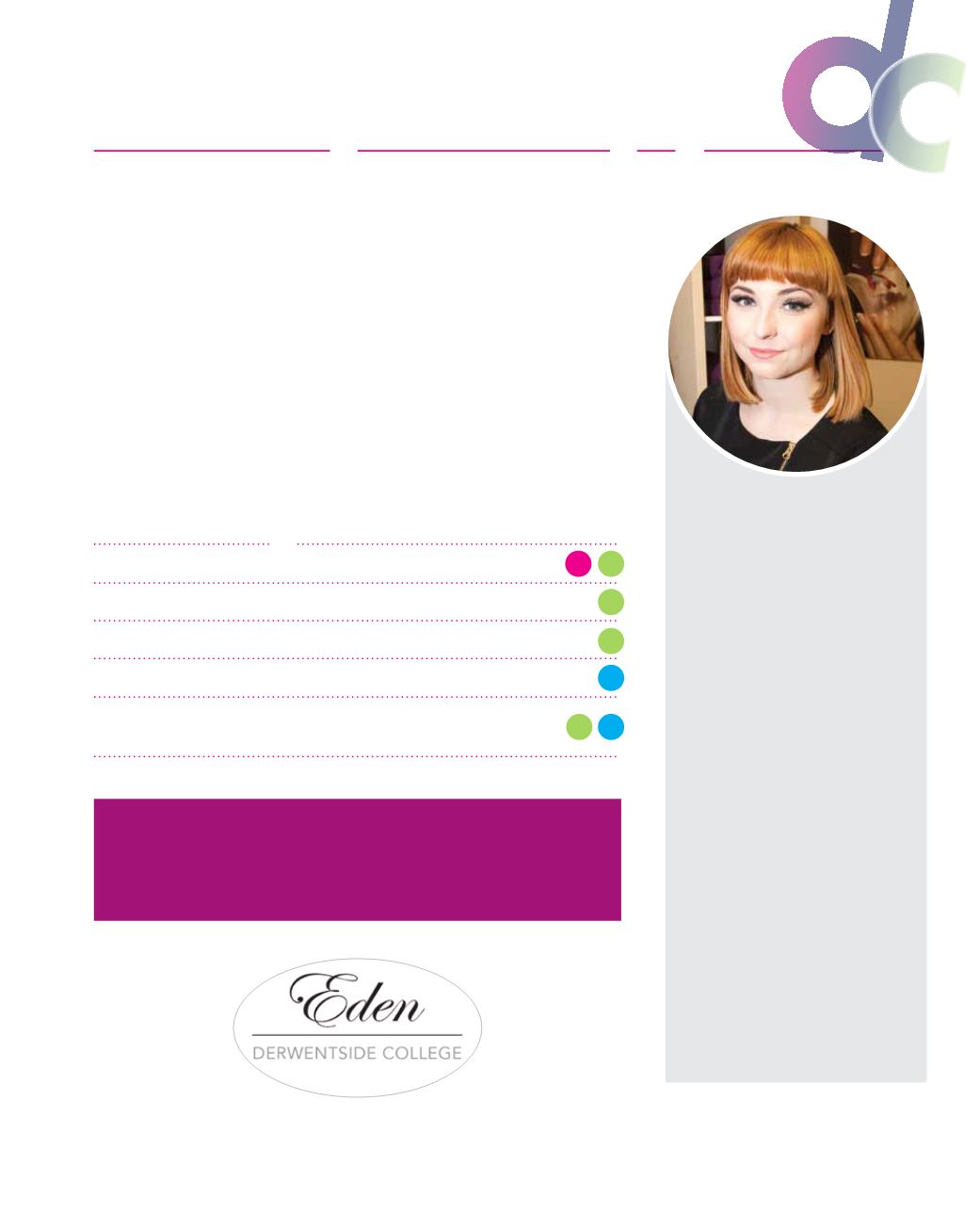 L2 L3
These courses will prepare you for a career in the beauty
therapy industry and can lead to employment in salons,
health spas and cruise liners. These practically-based
programmes will teach you how to perform facials,
manicures, pedicures, waxing, eye treatments and
make-up at Level 2 and Spa Treatments at Level 3.
Additional workshops that will further enhance your skills
and employability are offered on the Level 2 and Level 3
Diploma. Your training will take place in a well-equipped
working salon
'Eden'
, where you will provide treatments for
a wide range of clients.
What can I study?
Diploma in Beauty Therapy
Diploma in Nail Technology Services
Diploma in Hair and Media Make Up
Advanced Technical Diploma in Body and Spa Therapy
Apprenticeship in Beauty Therapy at Intermediate
and Advanced Level
After studying for
A-levels at St Bede's
School, I decided to take
a completely different
direction and chose
Derwentside College
after attending an Open
Event. I've always had a
passion for beauty
therapy and this course
has enabled me to be
very creative. I'm really
excited about returning
to College to complete
my Level 3 Diploma.
Once I've completed my
course I'm hoping to go
to university to study
Theatrical Makeup.
Charlotte McArdle
Diploma in Beauty Therapy
(Level 2)
Beauty Therapy
8
There are over beauty salons in
the UK, employing nearly 250,000 people
13,000
"
"
L3
L1 L2
L2
L2
Apply now at
www.derwentside.ac.uk